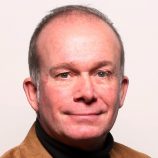 Peter George is the co-Founder and a Director of Link Management Group, he is also the Business Development Practice Area leader.
Peter has for over a decade been helping companies from the USA and Pacific Rim plan and execute their expansion to the UK, Europe, Middle East and Africa. Much of this effort involves managing the development of sales and distribution channels to achieve rapid and effective market presence.
Peter began his career working in a variety of industries including retail, agriculture, photography, aviation and eventually at the heart of UK Government. For two years he reported directly to the Office of the Secretary of State for Trade and Industry, Lord Young.
Peter re-entered the private sector in the mid-eighties, joining a Business Information Service organisation. In the early-90's after a brief period as a business consultant Peter was appointed General Manager of EMEA Operations for a US software company. Under his stewardship the business unit achieved 300 corporate customers across the EMEA region with annual sales revenues of $13m before being acquired in 1998.
Practice Areas
Business Development
General Management
Information & Communications Technology
Executive Mentoring and Coaching
Primary Capabilities
An experienced Board Level member of start-up and re-start businesses with a track record of profitable business growth across Europe, Middle East and Africa, and excellent knowledge of the technology industry.
Pragmatic and hands-on, operating as an Interim Director or Senior Manager
Extensive General Management skills with track record of on target project completion
Ability to launch new businesses and achieve quarter on quarter revenue and profitability growth
Leading and developing high performing multi-national and multi-discipline teams worldwide
Over 20 years of practical experience of running complex projects in large organisations
Excellent knowledge of the software and technology sector and a thorough understanding and experience of the technology adoption life cycle
Self motivating using initiative to deliver creative solutions to internal and external customer issues
Operates on a portfolio and full time contract basis
Preferred Activities
Business development and/or company start-up and re-start activities
Technology related businesses
Core Offer
A successful Director working at General Management level with the following characteristics:
High integrity
Keen entrepreneurial instinct
Disciplined and successful sales approach
Pragmatic problem solver
Adapting to different business sectors
Broad sector experience – technology industry specialist
Energetic people motivator
Excellent mentor and coach
Strong communicator and presenter
Innovative commercial approach
Other Disciplines Offered
Strong copywriting skills for marketing and technical
Executive mentoring & coaching
IT Architecture experience
Industry forum stewardship.
Primary Sector Experience
The majority of time in the last fifteen years has been spent in the high-technology business to business arena serving a number of different sectors including:
Healthcare
Insurance
Utilities
Financial Services
Public sector
Transport/distribution/warehousing
Business services
Internet commerce
Areas of Distinctive Performance and Value-Addition
A successful track record utilising his people and general business skills in the following:
Profit improvement initiatives
New business start-ups and re-starts
Technology due-diligence
Focusing boards to deliver results
Instigating/managing change programmes
Business reviews and restructures
Experienced conference speaker and chairman.
Notable Case Studies
Afaria Inc
Connect 360 Ltd
Qualifications and Professional Memberships
Institute of Directors
Thames Valley Chamber of Commerce
Mobile Data Association (Board Member since 1995)
Employment Summary
| | |
| --- | --- |
| Vice President, NetMotion Wireless International | 2005 – present |
| Co-Owner & Director, Wheatstone Consulting | 1998 – present |
| General Manager EMEA, XcelleNet Inc | 1994 – 1998 |
| Principal Business Analyst, Dun & Bradstreet International | 1988 – 1994 |
| Project Manager, Department of Trade and Industry | 1983 – 1988 |
Testimonials
I have found Peter's organisational and networking skills of great benefit. His quiet but determined manner achieved results where others would have failed. An excellent man to have on the team. – Martin Ballard, Vice Chairman, Mobile Data Association.
Peter has been responsible for developing relationships with government and trade bodies. I've been impressed with his range of contacts and ability to manage disparate parties to meet deadlines. – Nick Hunn, Managing Director, TDK Systems Ltd.
Peter was instrumental in addressing wireless and mobility issues while working together over a three year period. – Richard Paine, Advanced Computing Technologist, Boeing.
Peter and I worked together in an IT Industry forum. His market knowledge, international expertise and people skills helped smooth the way to significant success in a difficult volunteer environment. – Ed Harrington, VP Business Development & Strategy, Nexor Ltd.
I worked with Peter George for 4 years running The Open Group's Mobile Management Forum. Peter provided a voice of reason at the peak of the hype over 3G, leading the MMF to recognise the need to manage many different types of mobile computing concurrently. A major value to me was his breadth and depth of relationships with key players in mobile telephony and his market awareness. – Mike Lambert, CTO, The Open Group.
Peter did an excellent job of growing and directing the Mobile Management Forum during it's formation and high growth phases. His contacts and networking skills enabled the forum to reach critical mass quickly and produce deliverables that had value to the members and others in the industry. – Graham Bird, VP Marketing, The Open Group.
Peter managed a team of professionals all of whom delivered first class consulting services under his supervision. Peter was a good mentor and with his vision enhanced the sales made by my team. – Michael Templeman, VP Sales, XcelleNet Ltd.
Peter put together a strong organization and was well regarded both by customers as well as peers and management of the company. He's technically astute and is keen on customer satisfaction. – Corey Smith, President, XcelleNet Inc.
I worked with Peter George in establishing an official working relationship between two industry organizations. Peter is highly knowledgeable, responsive, well organized and highly effective in meeting his commitments. – Peter Rysavy, Owner, Rysavy Research & Chairman, PCCA.